PORCELAIN VENEERS
Porcelain veneers are thin tooth-colored porcelain shells attached to the front face of the tooth to enhance their cosmetic appearance. Cosmetic dentistry veneers can be made of composite resin or porcelain, but porcelain makes for some of the best teeth veneers. Porcelain teeth veneers don't treat cosmetic issues, but they cover hairline fractures, discolored teeth, stains, gaps between the teeth, and other cosmetic issues.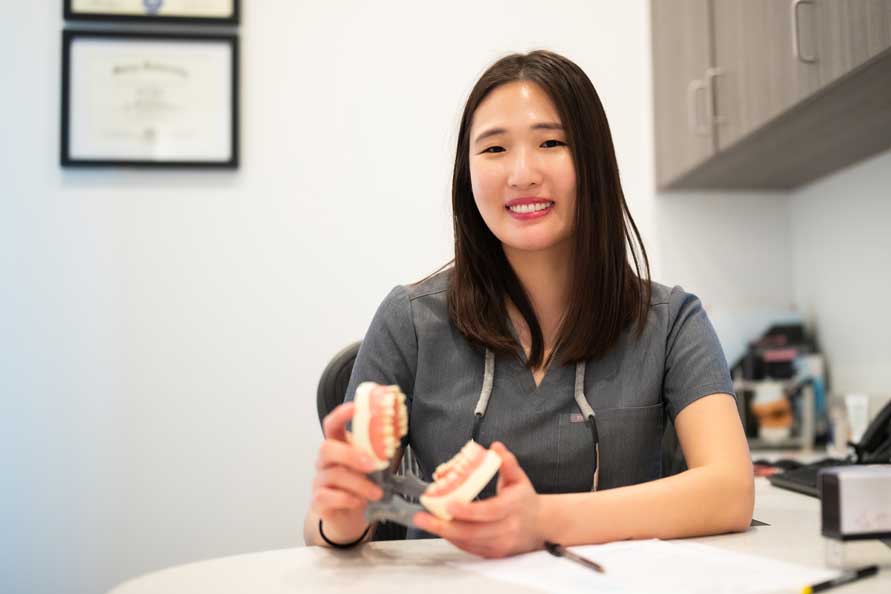 Schedule Your FREE Veneers Consultation Today!
Are you searching for dentist that do veneers near me? Look no further! At URBN Dental, we specialize in dental veneers. Whether you require veneers for chipped teeth, tooth gaps, or crooked teeth, we can help. Speak to our dental veneers specialist today.
At URBN Dental, you can schedule a free cosmetic dentistry veneers consultation with our doctors, some of the most reputable cosmetic dentists in Houston, TX. Our dentist will examine your teeth during your free cosmetic dentistry consultation and discuss your goals to recommend the best porcelain veneers for your teeth. Please continue reading to learn more about the permanent veneers procedure.
Uses of Cosmetic Dentistry Veneers
Cosmetic dentistry veneers are used to conceal the following cosmetic issues:
Intrinsically discolored teeth caused by root canal treatment, excessive fluoride, or other factors. Intrinsic stains can't be removed with teeth whitening, so cosmetic dentistry veneers are the best alternative.

Porcelain veneers on crooked teeth to conceal overcrowded teeth.

Dental veneers for gap teeth.

Porcelain teeth veneers to fix chipped or broken teeth.

Porcelain veneers used to conceal misaligned or uneven teeth.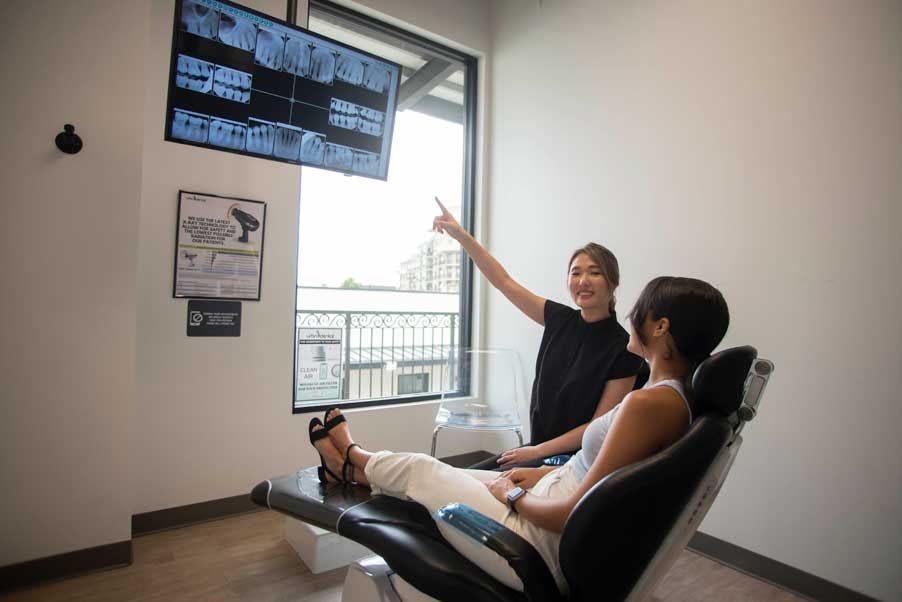 Benefits of Porcelain Veneers
Cover all Dental Deformities: Porcelain veneers cover up all dental deformities, such as stains, gaps between the teeth, cracks, crooked teeth, and other issues.

Options: You get to decide whether you want veneers on front teeth, bottom teeth veneers, veneers on all teeth, etc.

Stainless: Porcelain veneers are stainless. No matter how much coffee or tea you drink, your porcelain veneers will remain white.

Natural Appearance: Porcelain has the same texture and appearance as enamel. Furthermore, porcelain also reflects light in the same way as enamel. As such, porcelain veneers look just like your actual teeth.

Low Maintenance: Once you get porcelain veneers, maintaining them is easy. You have to follow your regular oral hygiene habits — nothing more.

Long-Lasting: Porcelain dental veneers can last up to 20 years, making them an extremely long-lasting procedure.
Regain Your Confidence and Smile Again!
At URBN Dental, we offer FREE porcelain veneer consultations. Speak to our porcelain veneers specialist about personalized porcelain veneers near me and find out if veneers are right for you. We know how busy life can get which is why we are a dentist open on Saturday. Book your appointment online now!
Types of Dental Veneers
Porcelain Veneers Near Me
Temporary Veneers
Temporary veneers are placed on your teeth after the initial preparation. After preparing your teeth, it takes a few weeks for the permanent veneers to be prepared. In the meantime, the dentist may provide temporary veneers that last for a short period.
No-Prep Veneers
No prep veneers, such as Lumineers, are ultra-thin dental veneers that don't necessitate any preparation. The dentist can simply attach the no prep veneers to the front face of your teeth without shaving off any of the existing enamel.
Traditional Veneers
Traditional dental veneers require considerable prep-work, i.e., the surface of your teeth has to be shaved off to accommodate the veneers. The dentist must remove a few millimeters of your enamel to make space for the porcelain veneers.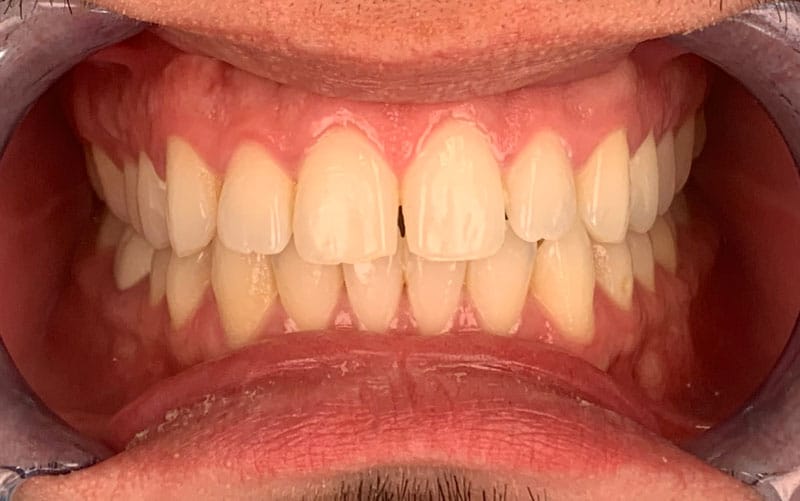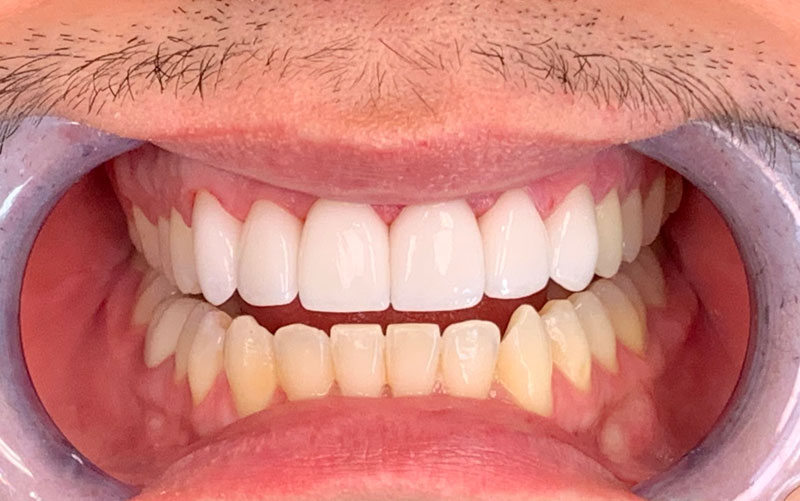 Teeth Porcelain Veneers Procedure
Step 1: Initial Consultation

During the Schedule your consultation, our dentist will examine your teeth, discuss your goals, and determine if you're a suitable candidate for porcelain veneers.

Step 2: Impressions

If you're a suitable candidate for teeth veneers, the dentist will take impressions of your teeth to produce the perfect set of natural-looking dental veneers near me. The dentist will also prepare a model for the dental veneers and send them to a laboratory for preparation, which may take 2-4 weeks.

Step 3: Preparation

The dentist will prepare your teeth to receive the porcelain veneers by removing a little bit of the enamel from the surface of your teeth. They will only remove as much enamel as the thickness of the veneers.

Step 4: Temporary Stick-On Veneers

The dentist will provide temporary stick-on veneers that you can wear to cover up the unsightly teeth while the dental veneers are prepared.

Step 5: Bonding

The dentist will clean and polish your teeth to receive the veneers. They will use a special dental cement to attach the porcelain veneers to your teeth. Once the teeth are in place, the dentist will use a special light beam to harden the cement, bonding the dental veneer in place. Finally, the dentist will remove any excess cement and make final adjustments.
Porcelain Veneers Houston — FAQs
Dental Clinic in Houston, Texas
Schedule Free Cosmetic Dentistry Consultation Today
Schedule your consultation for cosmetic dentistry and smile makeover. Our dentist will examine your teeth and discuss your expectations, lifestyle, and budget to recommend the ideal cosmetic dentistry plan for your specific needs and budget. For more information, please schedule an appointment with our cosmetic dentistry clinic in Houston, TX.