Porcelain Veneers for Straight Teeth
Do you have misaligned or crooked teeth that cause self-consciousness and anxiety? Do you feel the need to hide your teeth while smiling? If so, you should consider porcelain veneers to straighten teeth and achieve a perfectly symmetrical smile. URBN Dental in Uptown Houston provides highly personalized porcelain veneers that make your smile look even, symmetrical, and brilliantly straight white teeth. Please contact our exceptional cosmetic dentist in Uptown Houston to discuss your porcelain veneer options to straighten teeth.
Benefits of Dental Veneers
Instant smile makeover — don't need to wait for months or years.
Transform the visual appearance of your teeth.
Make your teeth look bright, straight, and symmetrical.
Porcelain is a stain-resistant material.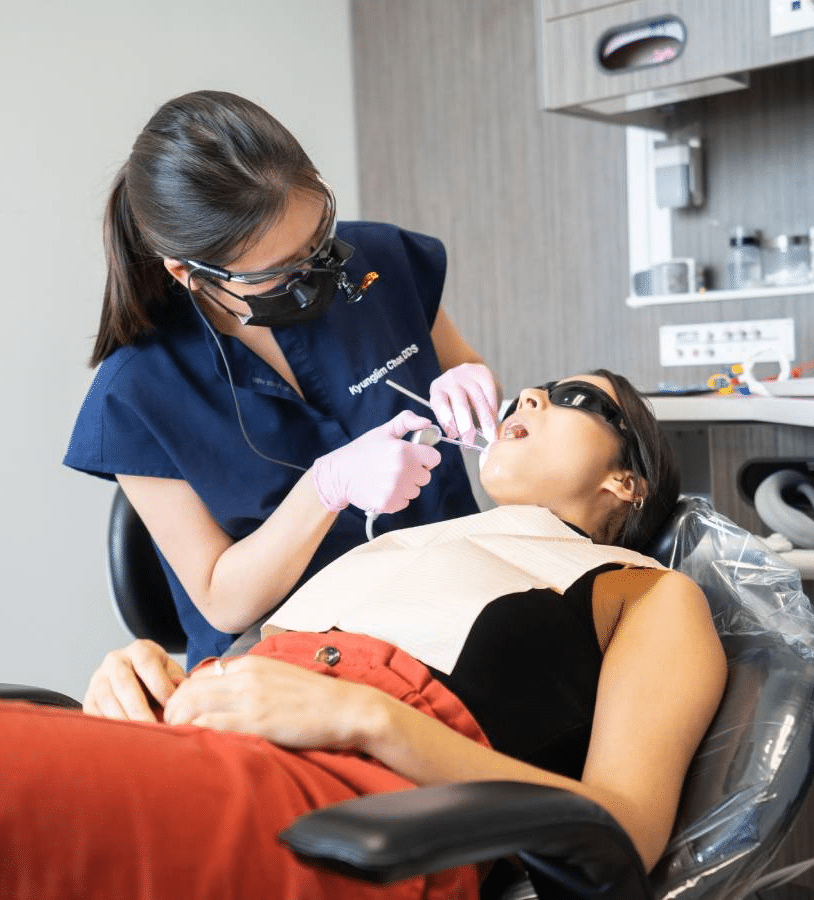 What are Cosmetic Veneers?
Cosmetic veneers, also known as porcelain veneers or dental veneers, are tooth-colored, tooth-shaped, and ultra-thin porcelain shells attached to the front face of your teeth. Porcelain laminate veneers essentially cover up your existing teeth, providing an external image of perfectly straight, even, and symmetrical teeth. Cosmetic veneers instantly address all cosmetic concerns, such as misalignment, cracks, and discoloration, making them ideal for instant smile makeovers.
Porcelain laminate veneers are the best type of veneers because they resemble the natural color and texture of enamel. Porcelain has the same texture as enamel, making porcelain veneers indistinguishable from natural teeth. Furthermore, porcelain is a stain-resistant material, so the veneers remain bright and white for years, and you don't need to worry about discoloration and yellowing. Porcelain veneers generally last for 10 to 15 years.
Dental Veneers for Straight Teeth
Most people consider orthodontic treatments, such as braces and invisible aligners (Invisalign), for crooked and misaligned teeth. Orthodontic procedures exert pressure on your teeth to move them in the desired direction, restoring optimal alignment. However, orthodontic treatments usually last for 1 to 3 years, depending on the type of treatment and the level of misalignment. Furthermore, metallic and ceramic braces are also uncomfortable and extremely prominent on your teeth during this period.
Porcelain veneers are the ideal alternatives for crooked or misaligned teeth. They can be attached to your teeth in two short sessions, giving you an instant smile makeover. As such, you don't need to wait for several years to see the desired results. However, porcelain veneers can only address cosmetic concerns and minor misalignment problems — not major misalignment issues. Your dentist will carefully examine your teeth to determine if you're a suitable candidate for porcelain veneers.
The Step-by-Step Dental Veneers Procedure
Porcelain Veneers on Crooked Teeth
Step 1:

The dentist takes x-rays and impressions of your crooked/ misaligned teeth and determines if you're a suitable candidate. You can only get porcelain veneers if you have minor misalignment issues with no major functional concerns.

Step 2:

The dentist prepares your teeth and provides temporary veneers. Traditional porcelain veneers necessitate removing a few millimeters of enamel from the front face of your teeth to accommodate the porcelain shells.

Step 3:

The dentist bonds the permanent porcelain laminate veneers to your teeth. You'll receive the porcelain veneers 2 to 4 weeks after the preparation. The dentist will bond the veneers to your teeth using dental cement and specialized lights.
Porcelain Veneers for Straight Teeth — FAQs
Dental Clinic in Houston, Texas
Schedule You Dental Porcelain Veneers Procedure
URBN Dental is an incredibly reputable and reliable cosmetic dental clinic located at 2400 Mid Ln. #350, Uptown Houston, a short drive from The Galleria shopping mall. Our dental clinic is particularly accessible to patients from Highland Village, Upper Kirby, Bellaire, and River Oaks in Houston. If you have minor misalignment problems, crooked teeth, or irregularly shaped teeth, please schedule an appointment at our dental clinic to discuss your porcelain veneer options.