Veneers For Front Teeth Gap:
Your beautiful smile is one of the first things people see when they meet you for the first time. Having imperfections such as gaps in front teeth can affect your self-confidence and cause insecurities. What is the best solution to hide tooth gaps? Our expert professionals can help you feel more confident by treating one or more large gaps between your teeth using porcelain veneers for teeth gaps.
Our professional veneers dentists use thin porcelain shells to fill the extra spaces between the teeth. They cement the veneers to the front of the anterior teeth. Once our specialists place custom-made porcelain veneers to fill the gaps, you will see an improved smile. Getting veneers to fill the gap in teeth can improve your overall health and boost your confidence. Contact us if you want to cover up stains, cracks, and chips or get rid of gap teeth. Our dentists will help you achieve your best smile.
Benefits of Dental Veneers
Cover up gaps between the teeth.
Restore dental symmetry.
Improve overall self-confidence.
Minimal preparation necessary.
Long-lasting cosmetic results.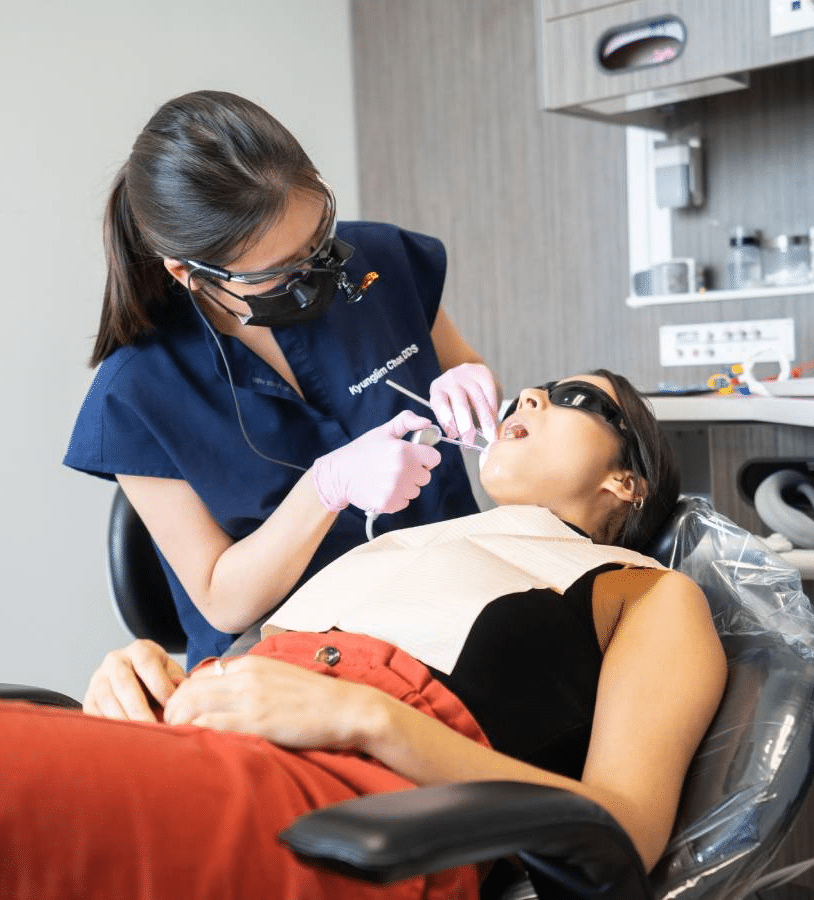 What are Porcelain Veneers?
Porcelain veneers are wafer-thin porcelain chips attached to the surface of your teeth. The porcelain can be adjusted according to the desired shape and shade to ensure optimal cosmetic appearance. The dentist shaves a few millimeters from the front face of your teeth to accommodate the porcelain. As such, when you get dental veneers, the porcelain shells essentially replace the superficial enamel from your teeth.
Porcelain is the ideal material for veneers because it resembles the shade, color, and texture of actual enamel. It's slightly translucent and reflects light in the same manner as enamel. As such, when porcelain veneers are attached to your teeth, they resemble your natural teeth and leave no traces of cosmetic manipulation. Consequently, your smile looks beautiful and symmetrical with no gaps between the teeth.
Cosmetic Veneers For Gap Teeth
The presence of gaps or space between the teeth is known as diastema, a condition wherein gaps may form between your teeth. While the gaps can appear anywhere in the mouth, they're most prominent between the front upper teeth. Gaps between the teeth can occur due to genetic predisposition, excess space in the jawbone, or because of the overgrowth of tissues bordering the gum line.
Gaps between teeth don't usually cause any functional problems, but they make patients feel self-conscious. In some cases, gaps between your teeth can also change your speech patterns, leading to a gentle whistling sound as air passes between your teeth. This can lead to self-consciousness when speaking in public. If you have aesthetic or speech-related concerns, cosmetic veneers are the ideal solution.
If you have gaps between your teeth, the dentist will rectify that problem by producing dental veneers larger than your existing teeth. The dentist will take exact measurements of your teeth, identifying the ideal dimensions necessary to fill the gap while ensuring optimal symmetry. The prepared cosmetic veneers cover up the gap, thereby improving your cosmetic appearance and speech. Please consult our cosmetic dentist to discuss your veneer options.
Are Veneers the Right Treatment for Me?
People with healthy teeth and minor gaps are the most suitable candidate for veneers. When you book an appointment with our dentists, they will examine your teeth. If you have insufficient tooth enamel, they may not place veneers on your teeth because the veneers will not adhere to the existing teeth. It would also be best to have moderately straight teeth because a misaligned bite can produce additional strain on the porcelain veneers.
During the process, our dentists examine your teeth and determine whether you qualify for veneer treatment. Once they finalize your candidacy, they will prep your teeth and place temporary veneers on them. After the prep of the teeth, they take images and send them to the dental lab to be fabricated. Our dentists make sure to use only high-quality materials during the fabrication process. After a few weeks, our dentists place them using a strong adhesive material.
At URBN Dental, our team provides high-quality care and treatment. If you are interested in the porcelain veneer for your tooth gaps, please contact us today.
A Comprehensive Porcelain Veneers Procedure
Cosmetic Veneers For Gap Teeth
Step 1:

The dentist examines your teeth, takes accurate measurements and impressions, and curates the dental veneers treatment plan.

Step 2:

Under local anesthesia, your existing teeth are prepared. The dentist shaves a few millimeters from the relevant teeth to make space for the veneers. You receive temporary veneers after the preparation.

Step 3:

The permanent porcelain veneers will be available in 2 to 4 weeks. Once they're available, the dentist etches your teeth, applies a dental cement, and bonds the veneers to your teeth. They make final adjustments to ensure symmetry and alignment.
Porcelain Veneers For Gap Teeth — FAQs
Dental Clinic in Houston, Texas
Porcelain Veneers Near Me in Uptown Houston
URBN Dental is one of the most reliable cosmetic dental clinics in Uptown Houston, located between the River Oaks District and Highland Village, a short drive from the Galleria. Our compassionate and talented cosmetic dentist, personalizes each porcelain veneer according to the precise shade, shape, and color of your teeth, making them indistinguishable from natural teeth. If you'd like to learn more about porcelain veneers in Uptown Houston, please schedule an appointment today.