Porcelain Veneers in Houston, TX
Porcelain veneers are the ideal solution to stained, cracked, crooked, or misshapen teeth. If you have cosmetic concerns that make you hide your smile, you're the ideal candidate for porcelain laminate veneers. URBN Dental Uptown is widely recognized as one of the most reliable cosmetic dentistry centers for porcelain veneers. Our exceptional cosmetic dentist has a keen aesthetic eye and personalizes all treatments according to the patient's unique needs to ensure optimal results and satisfaction. If you're prepared to start your journey towards flawless teeth, schedule your appointment with us today and speak to our dentist about your smile goals. Easily book online or call us at 281-819-6833.

We Offer Porcelain Veneers For…
Cracked Teeth

: Porcelain veneers cover up the small cracks and chips on your teeth, improving their appearance.

Stained Teeth

: Porcelain veneers can cover up the discolored teeth, and you can get porcelain veneers in the precise shade you desire.

Crooked Teeth: Porcelain veneers can cover crooked teeth, making them look even and symmetrical. 
Gaps Between Teeth: If you have gaps between your teeth, the dentist can produce veneers bigger than the size of your teeth to cover up the space between your teeth.
Porcelain Veneers at URBN Dental Uptown
During your initial consultation, the cosmetic dentist will carefully examine your teeth, discuss your concerns, and take x-rays of your teeth. If you have healthy teeth and gums, the dentist will curate your individualized treatment plan.
The cosmetic dentist will administer local anesthesia to numb your mouth, ensuring optimal comfort. They'll shave a few millimeters of the enamel from your teeth — this is done to make space for the dental veneers. Without shaving the enamel, the porcelain veneers will look bulky and unnatural. After your teeth are prepared, the dentist will take measurements and impressions of your teeth. The impressions will be sent to a laboratory to prepare the finalized veneers according to your unique goals and needs.
While the dental veneers are being prepared, you'll have to wear temporary veneers for 2 to 4 weeks. Once the veneers are prepared, the dentist will ask you to return for another session. Your teeth will be cleansed, polished, and etched, roughing up the surface to accept the porcelain veneers. The dentist will use dental cement to bond the permanent veneers to your teeth, and the cement will be hardened using a special light. Once the porcelain veneers are bonded, the dentist will make final adjustments to ensure optimal comfort and alignment. You can then resume all your daily activities with a perfect smile.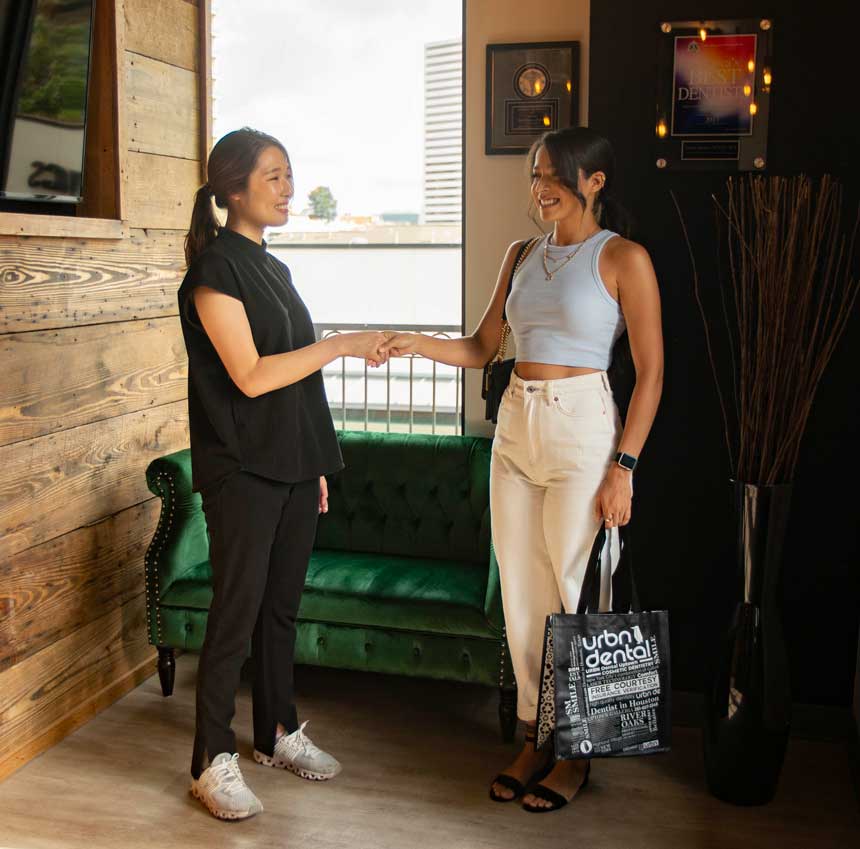 D

i

r

e

c

t

i

o

n

s

 

t

o

URBN D

e

n

t

a

l

 U

p

t

o

w

n

 F

r

o

m

 P

o

p

u

l

a

r

 H

o

u

s

t

o

n

, 

TX

 L

a

n

d

m

a

r

k

s
URBN Dental Uptown is located at 2400 Mid Ln. #350, Houston, one of the most accessible parts of Uptown Houston. Our dental clinic is adjacent to Highland Village and the River Oaks District and incredibly close to various neighboring towns, including Upper Kirby, Bellaire, and River Oaks. Furthermore, our dental clinic is a stone's throw from the iconic Galleria shopping mall, and it features plenty of parking spots.
Maggiano's Little Italy to URBN Dental Uptown: Drive down Westheimer Rd or San Felipe St for about 5 minutes.
The Galleria to URBN Dental Uptown: Drive down Westheimer Rd for about 5 minutes.
Regal Edwards Greenway to URBN Dental Uptown: Drive down Westheimer Rd and Weslayan St for 5 minutes.
Torchy's Tacos to URBN Dental Uptown: Drive down Westheimer Rd, San Felipe St, or I-69 for 10 minutes.
Consultation Appointment for Dental Veneers
Veneers may be an option for stained teeth, crooked teeth, or cracked teeth. Speak to our dentist about your smile goals. Schedule your FREE dentist near me same-day appointment. Smile confidently again!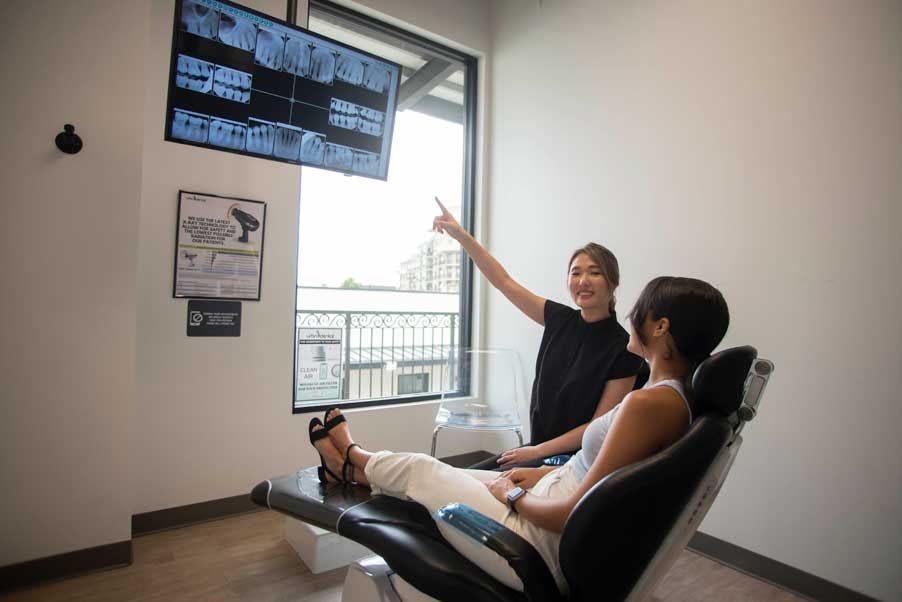 Schedule Your Porcelain Veneer Procedure

Looking for a skilled cosmetic dentist who specializes in porcelain dental veneers? Look no further than Dr. Chae at URBN Dental Uptown. With her expertise in the latest techniques and methods, Dr. Chae can design the perfect veneers to match your individual goals and needs. She takes the time to explain each step of the veneers procedure and ensures your comfort throughout the process. Dr. Chae has helped countless patients achieve a confident smile with beautiful, natural-looking veneers. To schedule a consultation for porcelain veneers with Dr. Chae, contact us online.