How Long Do Teeth Veneers Last?
Porcelain laminate veneers can last from 10 to 12 years. Dental veneers are essentially thin wafers of porcelain or composite resin attached to the front face of your teeth. They can be shaped according to your specific preferences, thus helping you achieve a perfect set of symmetrical teeth. Porcelain teeth veneers can conceal all of your cosmetic concerns at once, including misalignment, crooked teeth, heavy discoloration, and more. However, in order to receive porcelain or composite veneers, you need to have some of your enamel shaved off, which means dental veneers are non-reversible.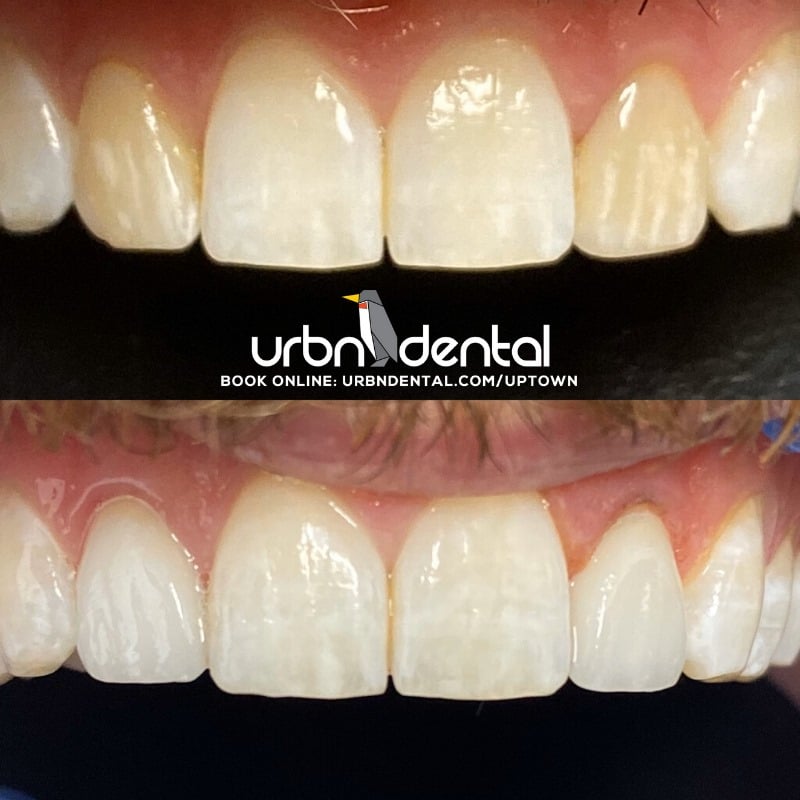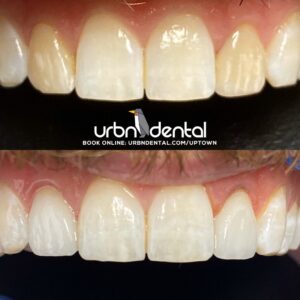 Once you get veneers (unless you get no-prep veneers), you need to use them for life. However, dental veneers don't last a lifetime and have to be replaced eventually. That's why patients often wonder how long do veneers last, which factors affect the longevity of veneers, how veneer replacement is performed, and how to take care of veneers to improve the lifespan. Below, we provide an overview of the longevity of the different types of veneers for your teeth.
How Long Do Porcelain Veneers Last?
The duration of dental veneers stay on whether you have porcelain or composite veneers, and how well you care for them. Porcelain teeth veneers are the most common type of veneers because porcelain is the most natural-looking material. Porcelain is thin and translucent, and it also reflects light in the same manner as enamel. As such, porcelain teeth veneers are indistinguishable from natural teeth. Porcelain veneers are also stain-resistant, which means you don't have to worry about them getting discolored over time.
How Long Do Composite Veneers Last?
Composite veneers have a define specially shorter duration. They last much less time than other veneers, with an average duration of just 3 year. Composite resin is another popular material used for dental veneers because it can be shaded according to your specific preferences. Composite resin veneers are also less expensive than porcelain veneers, so they're more suitable for people seeking more affordable options. Your composite resin veneers must be provided by highly-skilled cosmetic dentists, or they have a higher risk of getting damaged. The longevity of composite veneers is around 5 years or more, which is approximately half the time of porcelain veneers.
How Long Do No-Prep Veneers Last?
No-prep veneers, also known as Lumineers, are ultra-thin veneers that can be attached to the front face of your teeth without extensive preparation. The dentist doesn't have to shave off most of the enamel from your teeth, so no-prep veneers are also reversible. The longevity of no-prep veneers ranges from one producer to another, but Lumineers (the most common brand of no-prep veneers) has a longevity of up to 20 years. However, other sources say that Lumineers last for around 10 years.
Which Factors Affect The Longevity Of Veneers?
How long your veneers last also depends on the condition of your teeth at the time you receive the dental veneers. If you have bad teeth, your veneers may have lower durability.

Porcelain veneers and no-prep veneers last almost twice as long (or longer) than composite veneers, but they're also more expensive.

The longevity of your veneers depends on your oral hygiene. You must brush at least twice a day, floss regularly, and go for regular dental cleanings to increase your veneers' longevity.

Your dental veneers won't last very long if you suffer from teeth grinding and bruxism, a condition that makes you clench your teeth while sleeping.

The longevity of your dental veneers also depends on your diet. If you eat hard candies, nuts, ice cubes, and sugary beverages, your veneers won't last as long.
How To Take Care Of Veneers To Increase Their Longevity?
Brush at least twice a day

Floss everyday

Rinse your mouth with an antibacterial mouthwash

Wear a mouthguard while playing sports

Wear a night guard while sleeping if you have bruxism

Don't use your teeth to open objects

Don't eat extremely hard foods, such as ice or hard candy

Go for regular dental cleanings once every six months
What Happens To Your Teeth When You Get Veneers?
When you get dental veneers, the cosmetic dentist must shave off some of the enamel from your teeth to accommodate the veneers. Your teeth will be filed down for the veneers. However, if you get no-prep veneers, the dentist can attach them directly to your teeth without preparation.
How Are Veneers Attached To Teeth?
The cosmetic dentist will attach the dental veneers to your teeth using dental cement or bonding glue. The dentist will scrub the surface of your teeth and apply the cement and then place the veneers. A special light may be used to harden the cement and bond your dental veneers in place.
When Are Dental Veneers Used?
When you have severely discolored teeth

When you have crooked or misaligned teeth (minor)

When you have small cracks or chips on the teeth

When you have gaps between the teeth

When you don't like the size, shape, or appearance of your teeth

When you want a row of completely symmetrical teeth

When you don't have underlying dental conditions
What Are The Advantages Of Dental Veneers?
Can conceal all cosmetic concerns at once

Address multiple cosmetic problems with one treatment

Instantly improve your overall smile

The veneers are designed according to your preferences

They look and feel natural

The procedure is minimally invasive and simple

You don't need months or years of orthodontic treatments

Suitable treatment option for the loss of enamel
What Is The Most Common Reason To Have Veneers Replaced?
You may need dental veneer replacement if you have chipped, cracked, or worn-out veneers because of poor oral hygiene, gum disease, or old veneers. The number of teeth that require veneers, the type of veneers used, their form and size, as well as other factors, affect the price of dental veneers.
How Do I Get Veneers To Match My Other Teeth?
Your cosmetic dentist can take impressions of your natural teeth to ensure the new veneers match your other teeth.
Contact Us Today To Learn More About Porcelain Teeth Veneers In Houston, TX
Dentist Veneers Houston is a state-of-the-art dental clinic specializing in cosmetic dentistry and dental veneer procedures in Houston, TX. If you're dissatisfied with the shape, size, or general appearance of your teeth and want a Hollywood smile instantly, this is the ideal procedure for you. Please schedule a consultation with your cosmetic dentist in Houston for more information.