Veneers Dentist Near Me
URBN Dental is a state-of-the-art dental clinic specializing in porcelain dental veneers in Uptown Houston, TX. Located at 2400 Mid Ln. #350, our dental clinic is highly accessible to patients from the Galleria, Highland Village, Upper Kirby, and River Oaks in Houston. We've helped hundreds of patients achieve an instant smile makeover with personalized porcelain veneers that address all cosmetic concerns, such as stained teeth, cracked teeth, gaps between the teeth, and misaligned teeth.

Benefits at our Dental Clinic
Same-Day Dental Appointments
Dentist Open on Saturday
Easily Book Online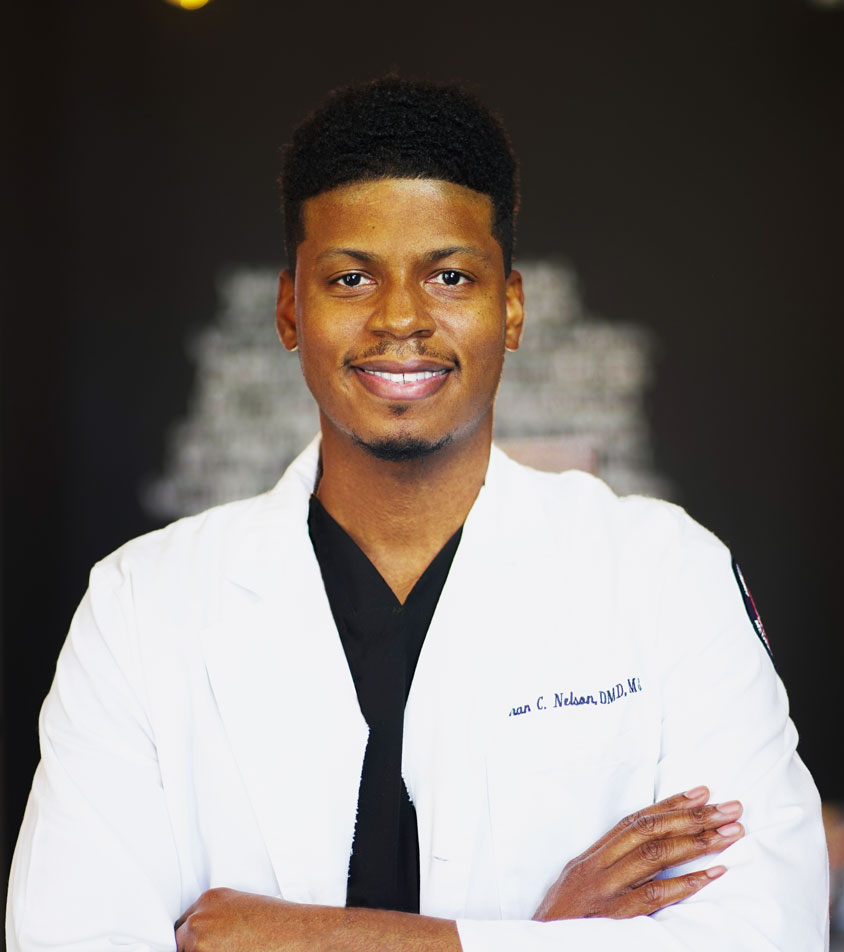 Dr. Jiman Nelson is the leading cosmetic dentist specializing in porcelain dental veneers in URBN Dental Uptown. Born and raised in Jackson, Mississippi, Dr. Nelson is an incredibly talented, compassionate, and friendly dentist with a keen eye for aesthetic details. He has performed hundreds of dental veneer procedures with perfect results — his patients are always thrilled with their transformed smiles. He maintains a perfect track record because of a personalized treatment plan that addresses each patient's unique goals.
Dr. Jiman Nelson has an incredible educational background. He completed his Masters in Biomedical Sciences, Doctor of Dental Medicine (DMD) degree, and Residency of Advanced Education in General Dentistry at the University of Mississippi Medical Center. After moving to Houston with his wife, Royce, he completed a Specialty Residency in Periodontics/Periodontal Plastic Surgery and Implantology. He's currently attending the University of Texas Health and Science Center to complete his Masters of Dentistry in Periodontics.
Besides his stellar educational background, Dr. Jiman Nelson is a valued member of numerous dental societies and organizations, including the Student National Dental Association, the Hispanic Dental Association, the American Dental Association, and the American Academy of Periodontics.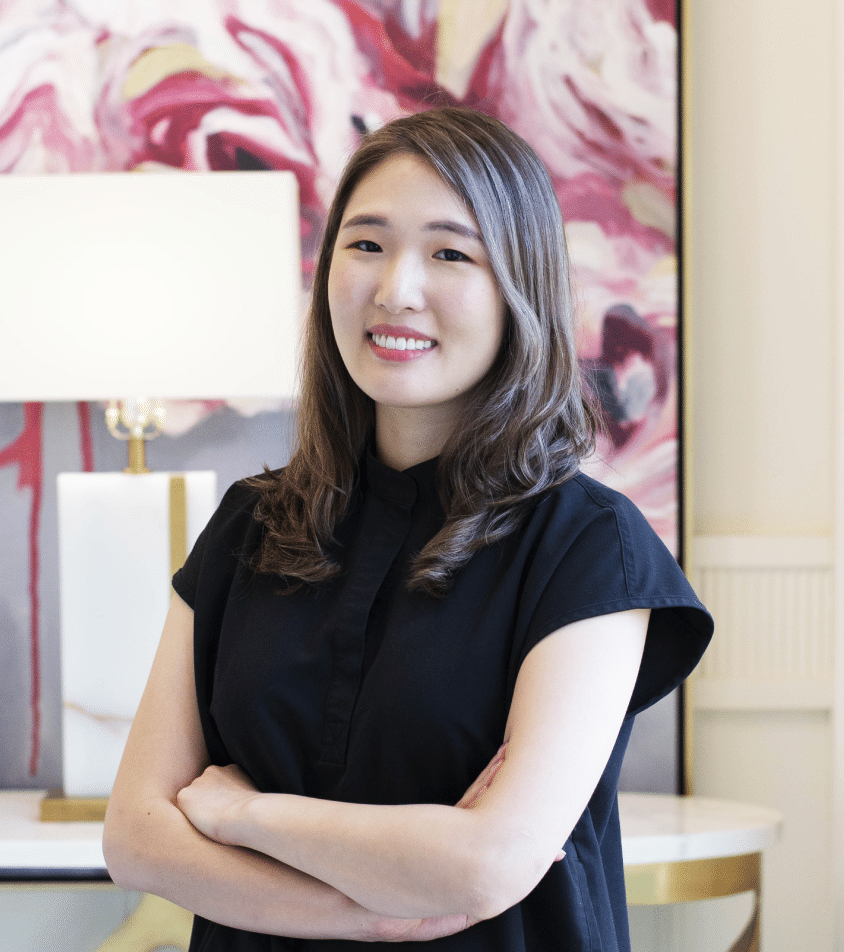 Dr. Kyunglim Chae is a graduate of New York University's BA/DDS 7-year joint program. During this time, she earned her Bachelor of Arts degree and graduated as a Presidential Honors Scholar with Honors in Biology. Dr. Chae then studied at New York University College of Dentistry to pursue her dreams of becoming a dentist and obtained her Doctor of Dental Surgery Degree.
Dr. Chae works towards creating a better healthcare environment in Houston, TX. She believes in explaining to her patients about their dental conditions and helping them practice oral hygiene. Dr. Chae is a Houston Dentist at URBN Dental, a practice that is equipped with some of the most high-end state of the art low radiation x-rays as well as the highest quality materials. URBN Dental is one of the only dentist in Houston that offers BPA-Free organically modified filling materials that are safe with the highest biocompatibility.
Conveniently available for Saturday appointments! URBN Dental utilizes the highest end laboratories that are often used by Hollywood Stars and Beverly Hills Dentist. Da Vinci Laboratories is used for all of the porcelain, veneer, and crown work at URBN Dental without adding any additional cost to patients.
Dr. Chae is a Dentist stays up to date with the latest advancements in Dentistry to provide suitable treatment options to her patients. Patients visit her at URBN Dental Uptown, where she caters to a range of dental concerns, such as Dental Emergencies, Gum Inflammations, Periodontal Disease, Cavities, Halitosis, and Bleeding Gums.
Porcelain Dental Veneers
Dental veneers are tooth-colored and tooth-shaped shells attached to the front face of your teeth to transform their external appearance. They can be made of composite resin or porcelain, but URBN Dental primarily offers porcelain dental veneers because they're superior. Porcelain has the same texture, color, and properties as enamel, making porcelain veneers indistinguishable from natural teeth. Furthermore, porcelain is stain-resistant, so your veneers won't get discolored or stained.
URBN Dental specializes in personalized dental veneers that address your specific concerns while improving your overall facial harmony. While all dental veneers are designed according to the rest of your teeth, we go one step further. Our cosmetic dentist designs the veneers and selects the ideal shade according to your overall facial aesthetics and complexion. This allows us to find the ideal teeth shape, color, and appearance for your veneers.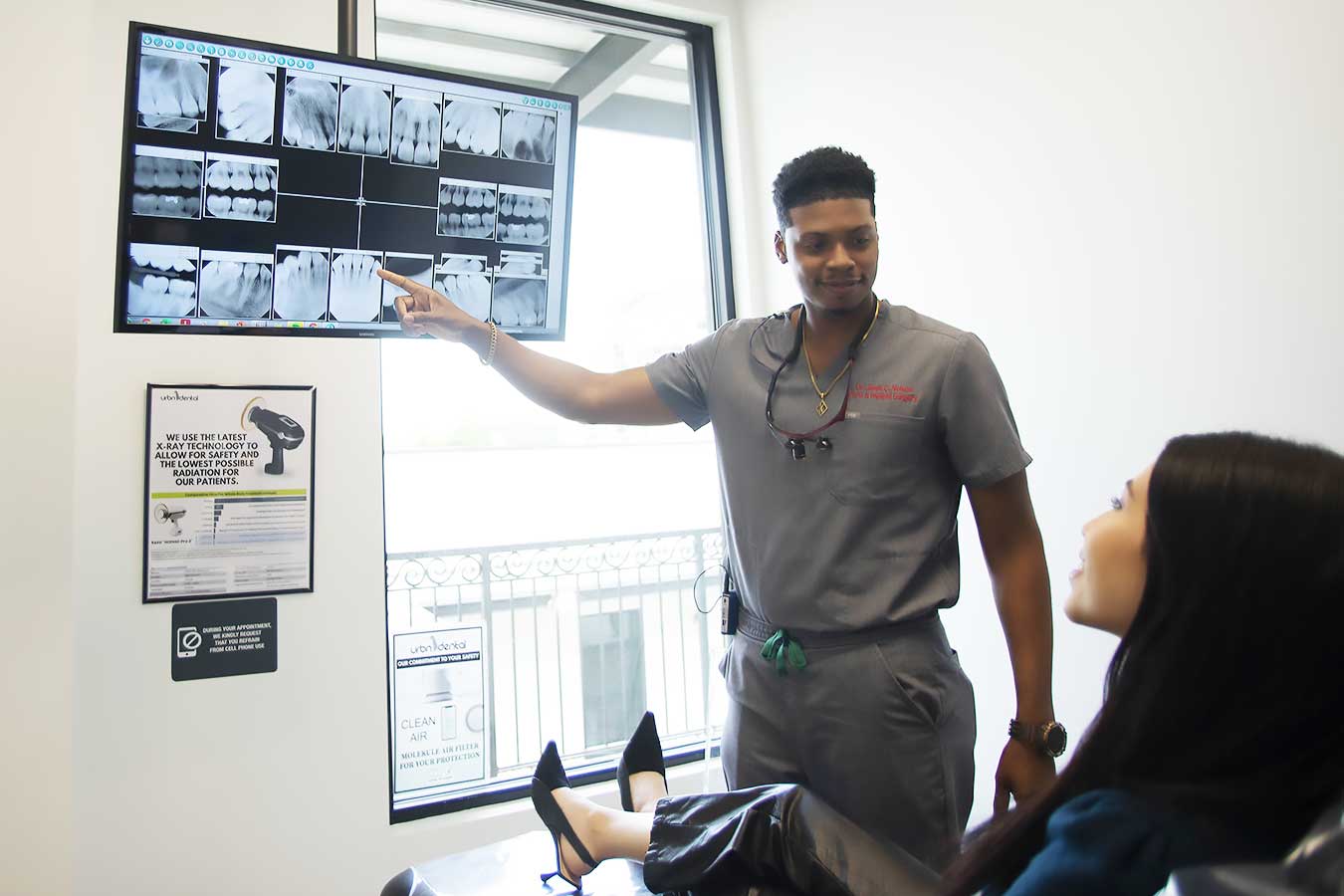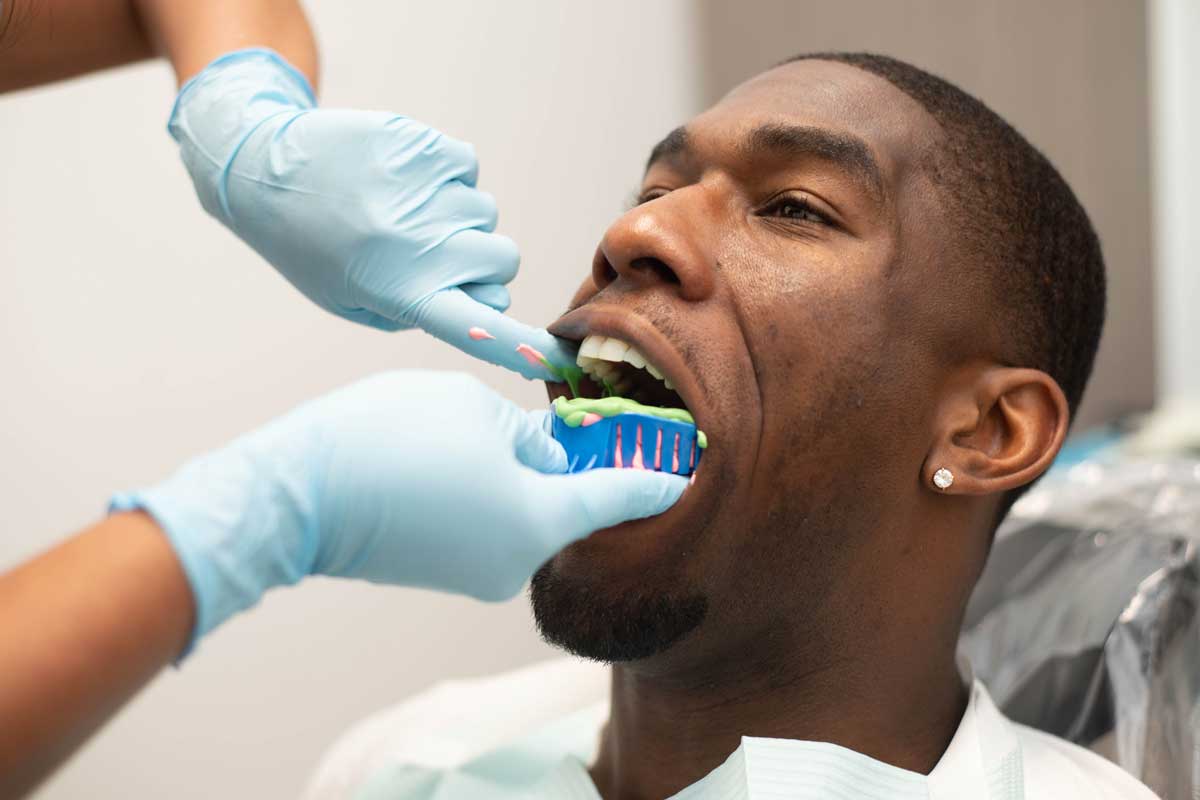 Open on Saturdays
Most dental clinics are closed on the weekends, making it hard for most people to seek treatments. However, URBN Dental Uptown is open on Saturdays, so you can easily squeeze your dental veneer appointments on the weekends. The dental veneer session usually lasts one to two hours, so you can conclude your session and then resume your daily activities. Please call our dental clinic to discuss the possible appointment timings or easily book your dental appointment online. At URBN Dental Uptown, we FREE cosmetic consultations.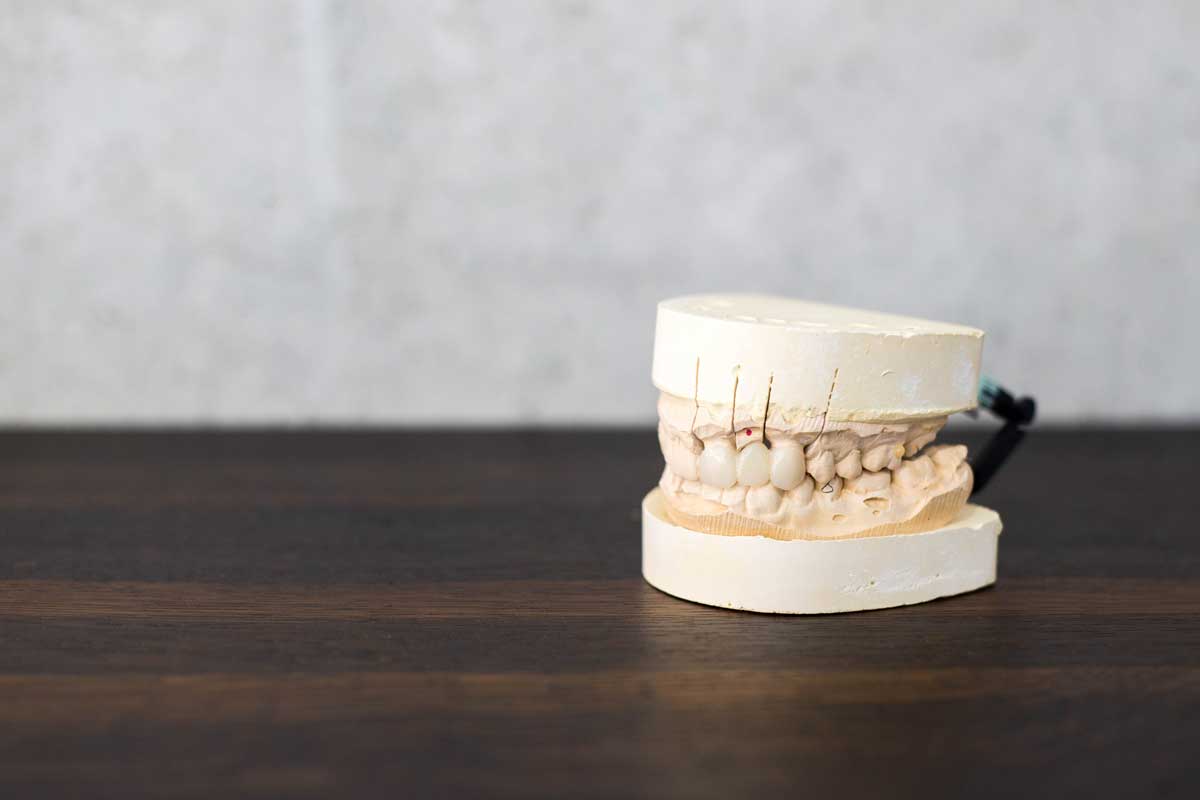 Highest Quality Materials
URBN Dental uses the highest quality of materials for all treatments, including porcelain laminate veneers. Our dental veneers are produced by DaVince Laboratories, one of the country's leading labs for the production of dental products. This assures the patients that their dental veneers will be strong and durable, capable of lasting 10 to 15 years with optimal maintenance. However, you must do your part — follow the cosmetic dentist's maintenance guidelines to extend their longevity.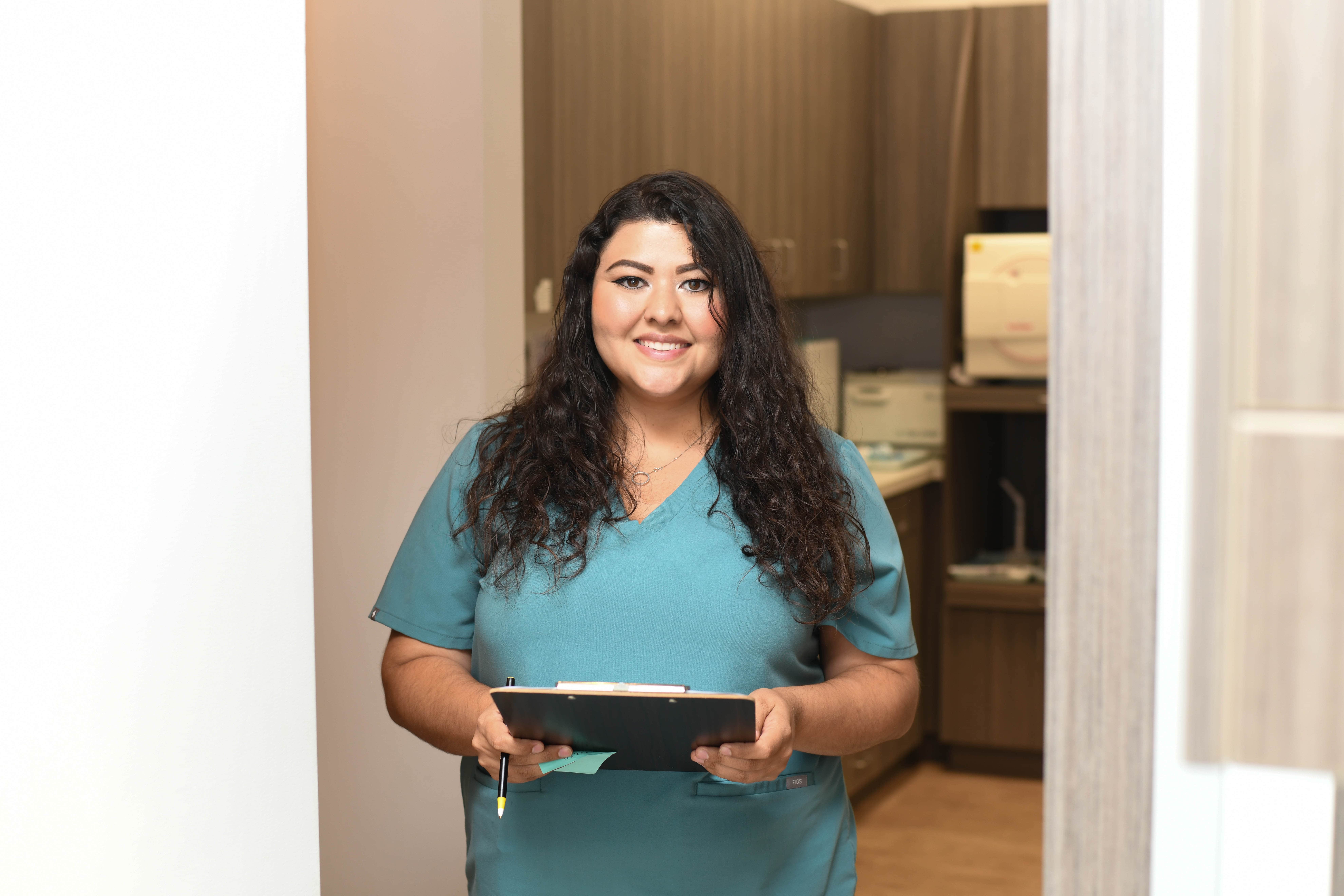 Complete Transparency
URBN Dental maintains complete transparency at every stage of the dental veneer process. Our cosmetic dentist explains every step of the procedure to you, so you know what to expect. Furthermore, he performs thorough evaluations and examines your teeth to ensure you're a suitable candidate. We also maintain complete transparency with the cost — the dentist will provide a complete overview of your treatment cost before your procedure. As such, you don't have to worry about surprise billing or hidden charges.
Accessible Location
Located at 2400 Mid Ln. #350, URBN Dental is one of the most accessible dental clinics in Uptown Houston. Our dental clinic is located between the River Oaks District and Highland Village, a short drive from The Galleria shopping mall, and highly accessible to patients from Highland Village, Upper Kirby, Bellaire, and River Oaks in Houston. As such, patients from the neighboring towns can drive over in less than 15 minutes.
The following are the directions to our dental clinic from various neighboring regions:
To reach URBN Dental Uptown from Maggiano's Little Italy, drive down Westheimer Rd or San Felipe St for about 5 minutes.

To reach URBN Dental Uptown from The Galleria, drive down Westheimer Rd for about 5 minutes.

To reach URBN Dental Uptown from Regal Edwards Greenway Grand Palace, drive down Westheimer Rd and Weslayan St for 5 minutes or drive down Mid Ln and Richmond Ave.

To reach URBN Dental Uptown from Torchy's Tacos, drive down Westheimer Rd, San Felipe St, or I-69 for 5-10 minutes.

To reach URBN Dental Uptown from Hyde Park, drive down Westheimer Rd, San Felipe St, or Kirby Dr for about 10 minutes.
URBN Dental is a state-of-the-art cosmetic dental clinic located at 2400 Mid Ln. #350 in Uptown Houston, right amidst the River Oaks District and Highland Village. As mentioned earlier, our dental clinic specializes in personalized porcelain dental veneers that address all your cosmetic concerns. Each dental veneer treatment plan is individually curated according to your specific goals and needs, ensuring optimal results. To determine your candidacy for porcelain veneers, please schedule an appointment today.